National Gamefowl League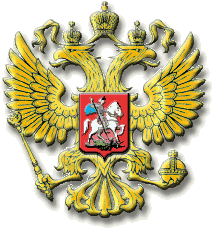 Nacionalnaia Liga Lubiteley Boycovoy Ptici

Orlovskia (Orlov)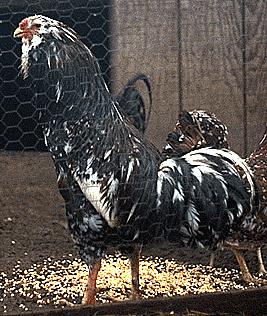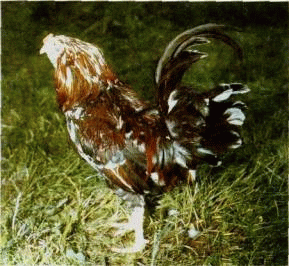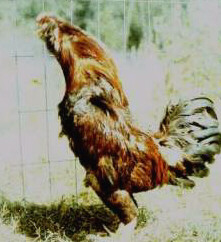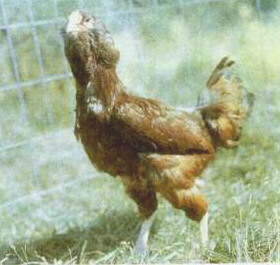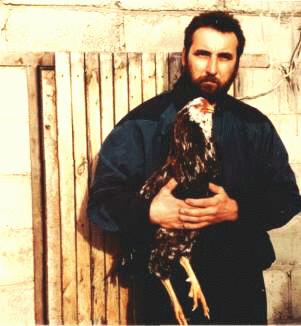 Orlovskia are clasified as Malays and are of Asian origin. It is a very old Russian breed and is known for about 200 years. The breed is named after a Russian Prince Chesmenskim Orlov. Concerning its origin people came to the conclusion that these bearded and mottled Orlovskia have been introduced from Persia. In Russia they were also known as -Persian Hens-. The predecessor of the Orlovskia was the Gilyan, another breed imported from Iran (Persia). The -Orlovskia- became very popular in the 19th century and the breed was widespread amongst breeders. Many fanciers liked the breed for its beautiful but unusual appearance, the good meat quality and last but not least being a very good egg-layer in wintertime. Under the Russian Czar the Orlovskia has been standarized and poultry societies have been founded in 1914.
Breed Description
Body: strongbuild, Breast: flat, broad, Legs: high, strongboned, Head: strong, eyebrowes proturberant, Eyes: red to amber colored, Comb: small, low set raspberry-type, Beak: short, thick, yellow-colored, Neck: long, stallion-like, Earlobes: very small, red-colored, Wattles: not developed, Tail: long, well developed, Back: broad, slopping towards tail, flat, Shanks: long, yellow-colored, Plumage: Thick overall, throat covered with a beard-like feathers. Neck plumage scruffy, Colors: mahogany.
Eggs: 140 to 150 per year egg-weight 58 to 60 Gr
Weight: male 4,5 Kg (10 Lbs) female 3 Kg (6,6 Lbs)
Character: game, endurance, agressive and powerful.
Picture Comments
Upper left (Orlov US bred - to compare) Upper Right (Orlov Russian bred) Center Left (Orlov Russian bred) Center Right (Orlov hen Russian bred) Bottom (Mr.Alexandr Ivanov with Orlov).


Back to Index