Stavropolsky Krai

Ohotniks
Welcome to our Website
We like to introduce ourselves and our hobby to other friends in the sport around the globe. We live in the Northern part of the Caucasus, an area situated in the South of Russia. We have a beautiful nature, historical sites, museums (7), good food, drinks (12 beer breweries !) and......very good gamefowl !
Our Hobby
Our hobby is to breed, keep and pit gamefowl. Also preservation of our domestic breeds is one of our goals. Pitting gamefowl is a very old tradition in our region to say in the Caucasus and Central Asian republics. Pitting overhere is done in natural heels. The gamefowl breeds we have are of the Asian type. Our domestic breeds like the Kulanga and Dakan come from our Central Asian republics, other breeds lhave been imported from countries like Greece and Turkey. Sometimes we make trips to Moscow to meet other friends in the sport. Any Friends in the Sport is welcome to visit us and to enjoy our hospitality ,friendship and sportmanship. Have a go and take a chance !
Breed Gallery
To give you an impression of these magnificent feathered warriors we will show you some of our finest birds. Please enjoy the pictures.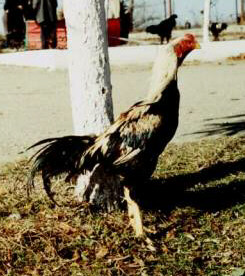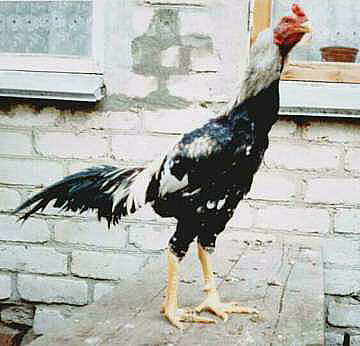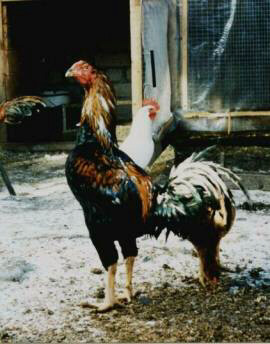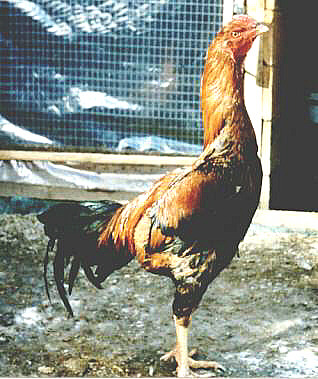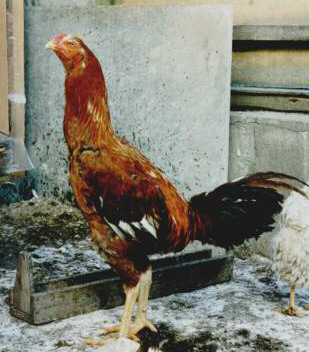 More Information
please contact Mr.Konstantin Dibighev by russiagame@lycos.com
Russian Pages

Please click flag for Russian langauge info (sorry, under construction !)
Our District
The Caucasus! How much wonder and intrigue is contained in that word. Its picturesque nature, its freedom-loving people, its enigmatic tales and legends. Your imagination is caught by the visible traces of history – dozens of watchtowers, half-ruined churches and mosques, the remains of ancient settlements and the burial mounds that guard the secrets of times long gone.There is a lot to do and see in our district like nature trekking, mountaineering, climbing, cycling, birdspotting or hunting. Our region is also famous for its spa facilities. We have a wonderful climate with gentle stable weather all year round, the crystal-clear air of the mountains and the proximity of Europe's highest peak – snowy Mount Elbrus, the mineral waters, the curative mud of Lake Tambukan: all this makes the resorts of Mineralnye Vody unsurpassed. It can be said without exaggeration that the beautiful mountain resorts of Mineralnye Vody – Pyatigorsk, Kislovodsk, Essentuki and Zheleznovodsk – are perfect places for relaxation and medical treatment. Stavropol' has air, rail (the Kavkazskaya-Divnoe-Elista rail line), and highway connections to other major cities. It is also linked by bus routes within northern Caucasia. Buses provide important linkages because of the mountainous nature of the area
Very Useful Links-(our Region)
Welcome to Stavropol Krai
An introduction to our province (link directory)
Interesting souvenirs
JSC "Kislovodsk Porcelain - Fenix" (porcelain factory)
Accomodation Links
Hotelfinder for Russian Hotels
Spa health facilities
Kislovodsk Health Resort (Kislovodsk)
Bird Spotting
Kislovodsk , Land of the Raptors (travel report)
Mountaineering
Kislovodsk Mountaineering Club `Edelweiss
Climbing adventure on Mount Elbruz (travel report)
Hunting Club
Stavropol Oblast Administation
Administration Contact (Russian & English webpage)
Very Useful Links-(National)
Internet Directory
Russia on the Internet (link directory)
Practical Tourist Information
Russian National Tourist Office (official website)